One of the great downsides of monopoly is a mathematical result known as Jensen's inequality that says that a lot of small mistakes aren't as bad as a single big mistake. One of the bad things about monopoly is that a mistake by a monopolist much worse than a bunch of smaller mistakes by competitors. At the moment there is a financial panic. Unfortunately the panic seems most widespread in the biggest entity of all, the U.S. government. As a result they are about to be stampeded into making an enormous mistake. The level of insanity defies the imagination. Rumors fly, each more absurd than the last - and are seized upon and repeated by supposedly responsible Senators and high ranking officials of the executive branch as a rationale for panicked approval of a nonsense plan. Reading the blogs - often quoting supposedly knowledgeable and trustworthy people - we find utter nonsense. If we don't approve the plan right away you won't be able to get money from your ATM. Firms won't be able to meet their payrolls. And on and on and on. To debunk the obvious: Washington Mutual failed Thursday night. Washington Mutual ATM cards (of which I own several) function as usual. Individual bank accounts are federally insured up to $100,000 per bank. The normal process of bank closure does not prevent bank customers from accessing their funds. As to payroll: I do not doubt that some firms of various sizes are going to fail to meet payroll and go bankrupt next week. It is likely that a few of them would have been able to survive if credit was more widely available at the moment, and a small subset of those might be able to survive if the bailout is passed by Monday morning. But most firms do not meet payroll by short-term borrowing; the fact that banks are reluctant to lend to each other does not have much impact on their ability to make short term loans to customers, and so on.
Yes: there can be cascading bank failures and that is a bad thing. But it does not happen instantly, not tomorrow, not next week, not next month. Here is a graph of bank failures during the Great Depression which we supposedly face again if we don't approve this ridiculous plan immediately.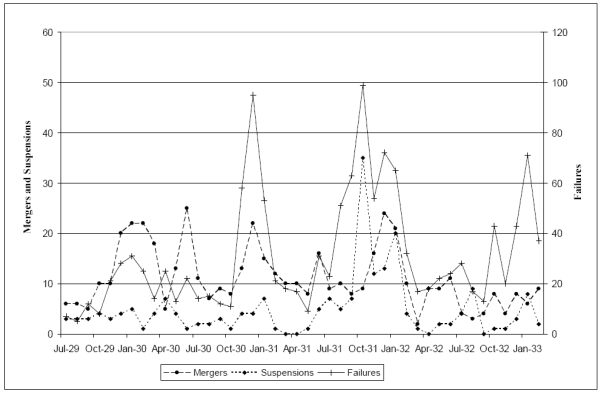 I got this from a publication of the Federal Reserve Board. The point of the graph is simple: the banking system didn't fail all at once during at the beginning of the Great Depression: there was a continuing series of bank failures stretching over years. Meaning that there was plenty of time to think through a policy response. And it bears emphasis: at the beginning of the Great Depression the Federal Reserve did exactly the wrong thing: it failed to provide liquidity to the system and allowed the money supply to contract. It is the documentation of this in the Monetary History of the United States for which Milton Friedman and Anna J. Schwartz are justly famed. At the moment the Federal Reserve has been carefully, and largely quietly, doing exactly what it is supposed to do - namely exactly the opposite of what it did at the beginning of the Great Depression.
Let's be clear: the only casualty of having a sensible and rational debate about how big the problem is and what needs to be done will be the Congressional vacation - and only for members of the relevant committees at that. Maybe if they think this is a $700 billion dollar problem and a possible Great Depression they should consider canceling that? I really can't think of a worse reason for a policy blunder of this magnitude than Congress was eager to take a break.
Come on folks: get a grip.