I have been meaning to post about some remarkable research by Eckhard Hoeffner for a while, but only now have time to do partial justice to it. Eckhard identified a nearly perfect natural experiment about the impact of copyright:
In 1815 the German confederation consisted of 39 states with no effective copyright. At that time Great Britain was a monolithic state in which the well enforced copyright had just been extended to 28 years or the life of the author. Germany was a bit larger in population about 27 million against 17 million, but population in England was growing much more rapidly, was concentrated in urban areas and England was a much richer nation. So many more titles were produced in England obviously with all that extra incentive from copyright.
A picture speaks louder than words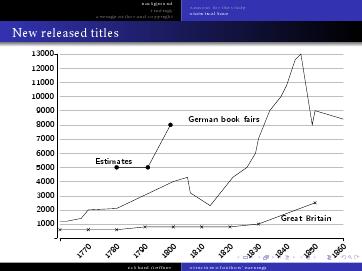 Eckhard goes on to analyze how authors fared with and without copyright. The bottom line: the journeyman author - those who produce most of the books - did better without copyright. The big guys at the top? They did better with copyright.
For all the details you can find Eckhard's slides here, and I am sure more is to come.