It isn't unexpected, either that they did it, or that they did it while everyone was distracted with the financial crisis...but we now
have a cabinet level copyright czar
to go with our drug czar. Let us hope that the war against copying will be as effective as the war on drugs.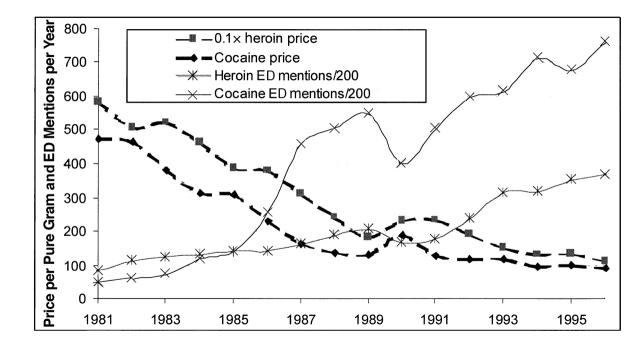 (graph from the American Journal of Public Health)
The position of drug czar was created in 1982 (according to Wikipedia). The dark lines are the prices of cocaine and heroin which have been falling ever since. Does the creation of a "czar" position mean that they have given up hope?
Addendum: There is something else interesting in that graph. One industry that operates entirely without the "benefit" of patents and copyright is the illegal drug industry. Yet it is a very innovative industry. For starters, as can be seen in the graph, prices have dropped quite a bit - over 15 years by a factor of about 5 (a little more allowing for inflation). Few industries can match that. And we know that there have been significant innovations: the invention of crystal methamphetamine; rock cocaine; stronger strains of marijuana and so forth. And presumably there have been innovations in methods of smuggling drugs into the country. Clearly these have been widely imitated. Which brings up the question: maybe if the government legalized recreational drugs, but subjected them to the same type of patent restrictions as ordinary pharmaceutical products - the price would go up instead of down?