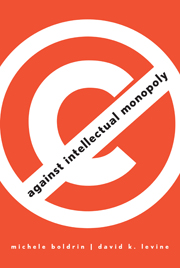 I
noted previously
that my
Against Intellectual Property
and Boldrin & Levine's
Against Intellectual Monopoly
are both selling just fine, even though both books are available for free online. Now it's no surprise the Mises Institute publishes works in free, online versions whenever possible; it
doesn't hurt sales
and anyway, their mission is to spread the freedom philosophy and sound economics.
But I was a bit surprised that Boldrin & Levine's publisher, Cambridge University Press, would allow them to put a free version of the book online; my experience with Oxford University Press (1, 2, 3, 4) would have led me to suspect publishers would be reluctant to permit this.
But as explained in the commments here, although they were not able to prevent the work from being protected by traditional copyright, the authors were able to persuade Cambridge to permit a free online version. Heroic! (The carping of some that they were "hypocritical" because the book has a copyright is ridiculous.)
When I inquired of Levine how they were able to manage this feat, he told me they simply bargained for it. The clause they got is as follows: Clause 3(a) grants to Cambridge "sole and exclusive right and license to produce and publish and itself further to license..." with some exceptions. Clause 3(b) reads: "(b) Notwithstanding clause 3(a) above, on first publication of the Work, the Author shall have the non-exclusive right to post the files of the published Work on his/her own and/or his/her institutional website subject to the inclusion of the copyright notice, full acknowledgement to Cambridge University Press and an appropriate hyperlink to the Cambridge catalogue."
In response to my surprise they were able to negotiate this, Levine told me that "academic journals give that as a matter of course - maybe for an academic publisher it isn't such a big deal? They didn't fuss about it, and it didn't sound like it was the first time they did it."
Could it be that some publishers are starting to get it?